Quick Fix: Fiesta ST TPMS Relearning
How to tell if you have a problem :
In the event that your TPMS sensor has gone bad and needs to be replaced, or has somehow unlinked from your vehicle's computer. Use these procedures to teach the vehicle the signals for each TPMS sensor.
How to Fix Problem:
To go through this process you will require a TPMS-19 transmitter (part number TPMS-19-8C2Z-1A203-A)
Verify TPMS light is on
Verify the tires are inflated to factory-recommended PSI (39 front, 36 rear)
While sitting in the car and with the door closed press and release the brake pedal
Without starting the engine press the Start/Stop ignition button 5 times.
Press and release the brake pedal.
Press the ignition button to turn it off.
Without starting your engine, press the ignition button 5 times.
The horn will sound once and a message to train the left front tire will appear on your touchscreen
Go to the left front tire and hold the transmitter against the sidewall of the tire closest to the valve stem and depress the button one time.
Once properly activated at that wheel the horn will sound once.
Continue around the vehicle at each wheel in order going clockwise from the front left tire.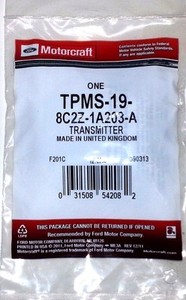 Definitions:
TPMS

Tire Pressure Monitoring System